Sustainable Building
Arden Homes, Leaders in Energy Efficient Housing
Sustainability is front of mind for Australian builders coming into 2022, with significant changes proposed to energy efficiency requirements within the new NCC. We sat down with Arden Homes' Director Dean Morrison – a leader in sustainable building – to chat about sustainability, the future of housing and how this area intersects with homeowner expectations.
Sustainable Building Beginnings
Dean got his start in sustainable building around 25 years ago, and his deeper interest was seeded around 20 years ago when the 5 Star rating requirements were introduced.
The proposed changes to the NCC 2022 mean that all new builds will be required to meet a 7 Star rating.
Unsurprisingly, it is the future that Dean looks to for inspiration. Dean has witnessed first-hand from his children just how environmentally conscious future generations are. "I think the next generation, if they can afford sustainable homes, will be willing to pay for it."
"Teenagers really are at the forefront of environmental changes."
It was one completely carbon-neutral home that cemented Dean's belief that sustainability can become a standard for all homes. "We got involved with Villawood Properties in Lyndhurst and with South East Water on an 8 Star home – Aquarevo. We managed to make that a carbon-neutral house. So that was probably the real pivotal point for me, to say this can be done."
Communication with Homeowners
Dean also cares deeply about communicating the importance of sustainable building to homeowners. He says the trick is helping them to understand the difference between functional energy efficient products and cosmetic items, and then to explain why sustainable options save them money in the long run.
Some sustainable principals, Dean says, homeowners already have some understanding of, such as double glazed windows. "If we say to a homeowner, 'We'll give you double glazed windows.' They're all over it. And if you give them a choice between double glazed windows and upgraded Caesarstone benchtops, they'll take the double glazed windows. But you have to be giving it to them."
Sustainability at the Forefront
Arden offers what they call unrivalled inclusions, featuring energy-efficient items such as using double glazed windows, LED downlights and energy-saving solar panels in every home.
Waste reduction and recycling is also a critical part of building sustainably. Arden Homes ensure excess building materials are managed in a way that minimises the environmental impact.
"We do a lot of recycling because there's a lot of waste. I've built numerous houses over time, and it is astonishing how much waste we actually produce. Just in deliveries and boxes and all those sorts of things. Then we look at what different materials are going to have less waste from a sustainability point of view as well."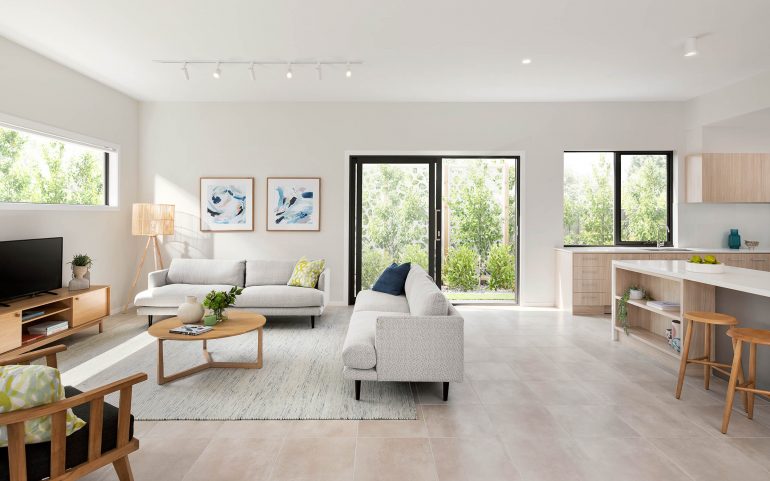 The Future of Sustainable Housing
Arden's latest display homes under construction in Sunbury are shining examples of sustainable building done right. In line with the NCC changes, the homes all achieve a 7 Star rating. Better yet, they are completely carbon-neutral and 100 per cent electric, which is something Dean feels strongly about. "How much carbon we actually put back into the environment hasn't been spoken about a lot in our industry."
Dean also points out that sustainable practices are not only better for the environment, but better for the bottom line, too.
"I think it's a real win as to the carbon savings, but also to the cost savings you can have with sustainability too."
Arden is leading the way for sustainable building practices in Australia by going all-electric. Their homes come with sustainable inclusions as a standard, such as double glazed windows, and are built on waffle pod slabs.
"Double glazing is one thing to get you to that 7 Star and better energy rating."
Sustainability will only become a norm if the products required offer homeowners ease of use and intuitive functionality. Dean spoke fondly of how A&L's offering achieves this balance.
"A&L Windows rate really well. They've consulted with the industry to see what they think around the design aspect, as well as the functionality. It's the quality of the A&L product as well that's beneficial because you can still open and close them easily. A&L really think about how the consumer is going to operate it."
Creating a legacy is at the core of Dean and Arden's approach to sustainability. To progress, Dean believes we need to think hard about the types of homes we're building and the impact they have on the environment, both now and in the future.
"Builders, at the moment, are building these houses that are not energy efficient," he said. "We're going to be knocking them down in 20 or 25 years' time. Which is a really sad thing to think about. So, why don't we build stuff that's not going to be taking away from the environment?"