Feature project
CNC Constructions Case Study
We look into our partnership with CNC and one of their architectural masterpieces, designed and built to deliver cutting-edge energy efficiency, high-end style, and outstanding craftsmanship.
CNC is an innovative residential design and build company, directed and managed by brothers Nathan and Joel Black. Their passion is creating unique and enjoyable new homes, additions, and alterations.
CNC's in-house design and documentation team provide uniquely tailored designs through a consistent approach, delivering residential developments that are creative, practical, and cost effective.
With widespread capability, they handle projects from design right through to build completion. So, it comes as no surprise that one of CNC's landmark developments—a four-bedroom, three-bathroom celebration of luxe modern living in Nunawading—offers premium quality from top to bottom.
We proudly partnered with CNC throughout the design and build of this flagship home, so we spoke to Joel to unpack the story behind the showpiece.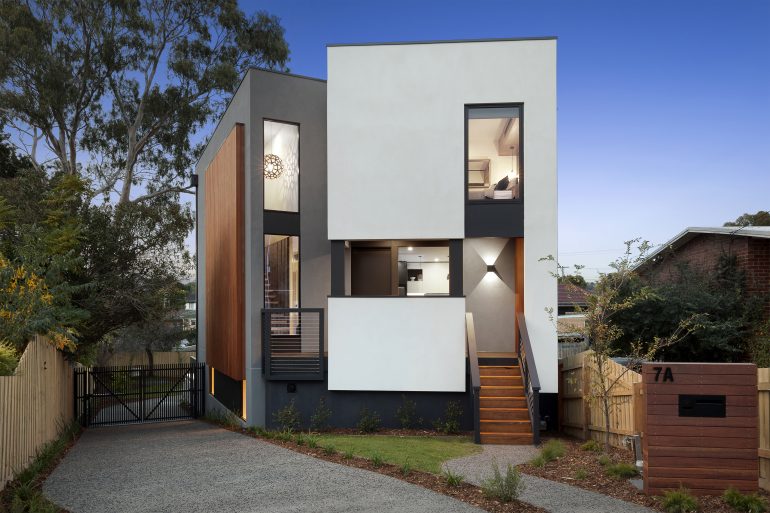 With a focus on creativity and practicality, the home casts a unique, contemporary form.
---
The background
Set in a sought after-area of Nunawading, to the east of Melbourne, the residence was once a vacant parcel of land before being subdivided and put to market by the adjoining property owner.
After acquiring the land, CNC set out to design something different to what is widely available in the area. Several design challenges—including small street frontage and various drainage easements—meant the team had to get creative in their approach.
The property is spread over three levels. The basement offers a guest retreat area with a full bathroom, along with a laundry and double garage. The ground level features open-plan living, with a kitchen and dining area serviced by a powder room, and a balcony overlooking a sizeable back yard. The top level consists of three generous bedrooms, a bathroom, ensuite, powder room, and general rumpus area.
Joel says: "We wanted to bring some contemporary design flair into the suburbs with this project."
"The goal was to create something you don't necessarily see every day."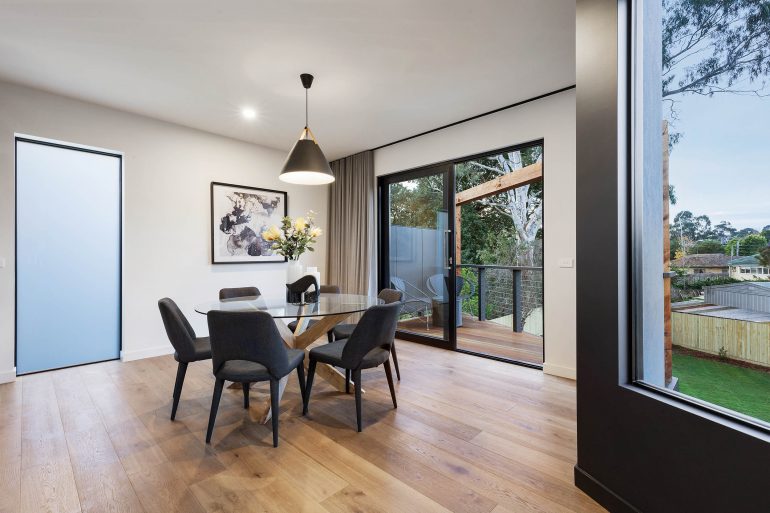 Views across the dining area and out to the balcony.
---
"At the same time, we wanted to set a benchmark for ourselves in letting people know what can be achieved at a cost-effective price with some intelligent design elements."
---
High-end aesthetics without the price
When it comes to developing a showpiece home like this, attention to small details is key in creating luxury.
"For every project we design and build, we strongly suggest our clients use A&L Windows and Doors. A&L provide quality products with the aesthetics of a semi-commercial window system at a cost-effective price."
"For this project, it was important to get the detailing right, and that's how A&L Windows fit into the picture."
"With A&L, we are able to achieve the high-end architectural look without breaking the budget. As a result, clients can get more bang for their buck elsewhere in the build."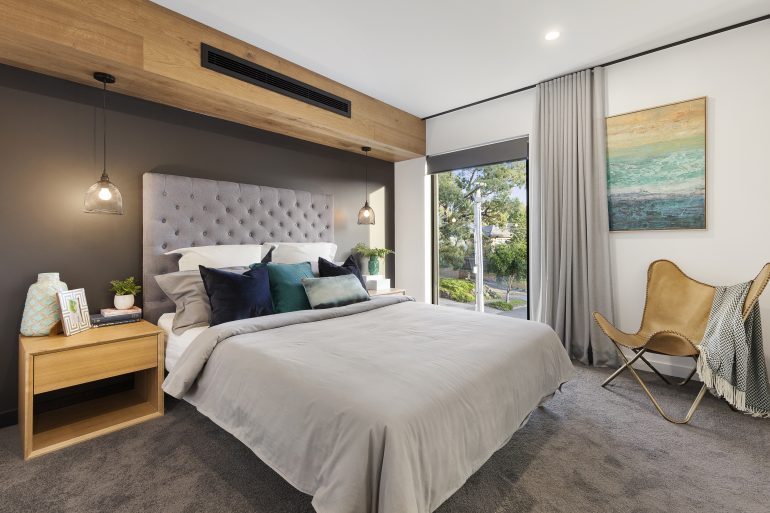 The top floor offers privacy and pristine views for each of the three bedrooms.
---
"Our aim in Nunawading was to create a premium contemporary feel throughout the home. So, we chose A&L's Boutique Platform Series: it offers the ezy reveal option, which eliminates the need for architrave surrounds and enables us to install plaster reveals."
"The clean and crisp lines of those plaster reveals deliver on the high-end architectural aesthetic, while the chunkier frame of the Boutique Platform Series is more in line with the popular—but costly—commercial framing systems."
---
Creating a bold visual statement with the Boutique Platform Series
In terms of A&L products, the home at Nunawading features fixed and awning windows, as well as stacking sliding doors. All A&L products featured throughout are from the Boutique Platform Series.
"We've used the Boutique Series, which provides a thicker frame and a much sturdier track system for sliding doors."
"The Boutique Series includes higher quality hardware, which provides a premium, commercial feel for about a third of the cost of using commercial window systems."
"If you look at the Nunawading residence, the plaster reveal provides a seamless connection between the plasterboard and the aluminium window frames. Those robust A&L aluminium frames are finished in black to provide a striking contrast with the interior walls."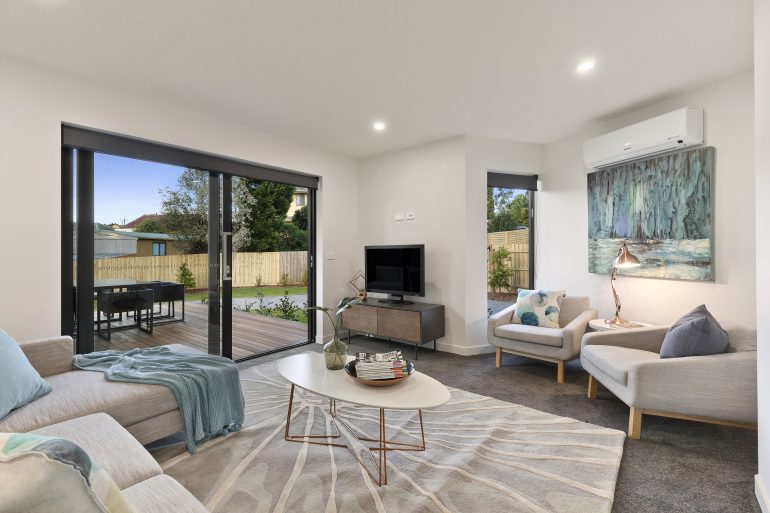 Sliding doors, finished in black aluminium, stand out from the white interior.
---
But this project wasn't just about achieving the highest standards stylistically. Environmental performance was also a key consideration in the Nunawading residence.
---
Leading in energy efficiency…
CNC has a clear and consistent focus on creating sustainable homes by incorporating energy-efficient design elements and materials.
"Our aim was to exceed the minimum 6-star energy efficiency rating, which would create an additional selling point come auction day."
"A&L windows were an important factor in achieving and exceeding the minimum standards of an energy efficient design."
"Double Glazing was used throughout the home which has become standard practice in most of our builds."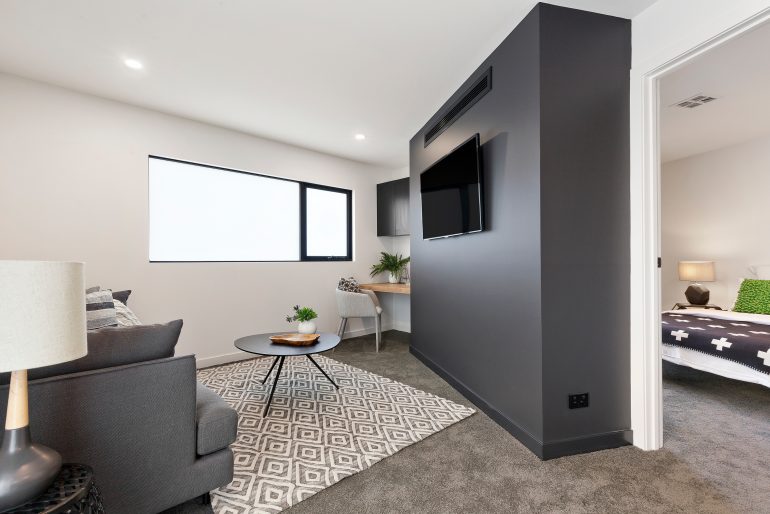 The height of modern, luxury living.
---
"We worked with A&L to strategically size and orient windows to maximise solar gain in winter and minimise gains in summer. A&L offered some options in terms of U-Value and Solar Heat Gain Co-efficient so we could experiment with the energy rating consultant and exceed energy requirement standards."
---
…and efficient service
"We've been with our sales rep for some time now and the whole process of dealing with A&L has been really easy and timely."
"Basically, we send off our drawings, we get the quotes back with the window schedules, and it's a really simple and reliable process."
"A&L continually meet or exceed our expectations in regard to deadlines and assistance."
"We've got a relationship with A&L where they're able to work with us for each individual project. As a custom builder where no 2 projects are the same, we rely on working through problems and solutions with our suppliers and contractors. A&L have made this an easy process."
"If we have questions, they have answers or solutions. If we have problems, they are more than willing to help."
"Over the course of the relationship there are repeat examples where they've gone up and above, to assist in any way possible."
"It's reassuring to work with a window supplier who we have a great relationship with."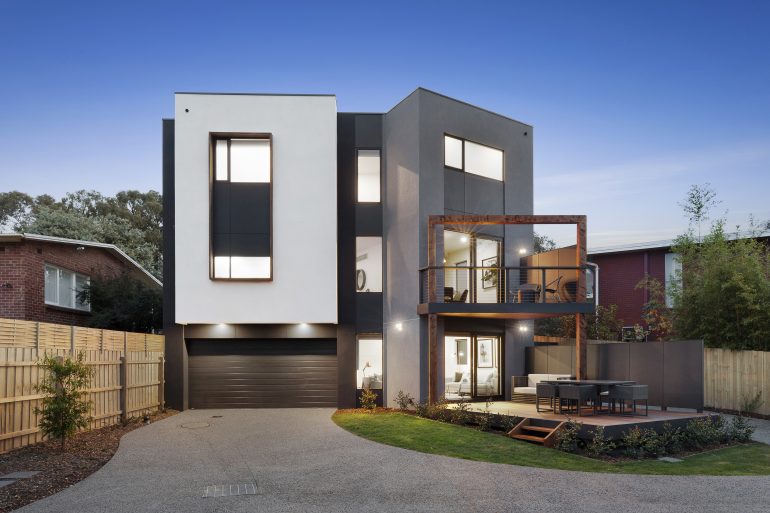 The showpiece home at Nunawading, standing proud and packed with enlightened design choices.
---
Wrapping up
If you're interested to learn more about CNC Constructions and their approach to building high quality and sustainable lifestyles—or to look into some of their other high-profile projects—head over to their website now.
Otherwise, stay tuned for more of our feature projects or get in touch if you've got something exciting in the works yourself.