UNDERSTANDING ENERGY REPORTS
How is a home actually rated for energy efficiency?
Energy ratings are increasingly crucial for builders and homeowners alike. But they can also be complicated. What do they actually measure? How are they calculated in a home? And why is your energy rating important?
In this piece—created in partnership with experienced and accredited energy rating professionals from Arrow Energy Ratings—we'll clear up some of the confusion around energy reports and ratings. You'll learn:
Why are energy ratings important?
What does an energy rating report actually measure?
How is an energy report conducted in a home?
How can I find out more information?
Why are energy ratings important?
This one's pretty simple: energy ratings are important because you're mandated to meet a certain energy rating based on the type of home you live in.
These mandated requirements are imposed by the National Construction Code and apply in every state and territory throughout Australia. There are three main methods to rate a house for energy ratings.  The more comprehensive and widely used of those methods is commonly referred to as NatHERS, which is shorthand for Nationwide House Energy Rating Scheme.
Beyond the current regulations, energy efficiency may become even more important in the future; particularly from the year 2022 when significant reviews are planned, and stricter requirements may come into place.
For now, the requirements for energy efficiency ratings are as follows:
For standalone homes:
In Victoria, any home built after 2013 must achieve at least a 6-star rating. Compliance with these requirements is managed by a building certifier, who is licenced and overseen by the VBA.
In Queensland, the minimum energy efficiency rating for any new houses built after 2010 is also 6 stars. This standard is outlined in the Queensland Development Code, section 4.1 Sustainable buildings (QDC).
What does an energy report actually measure?
There's a general misconception that an energy report broadly calculates how 'green' a home is, in that it factors for the use of solar power, rainwater tanks, and other wider considerations for sustainable living.
In reality, the current process for establishing an energy rating calculates a home's heating and cooling requirements—referred to as 'mechanical heating and cooling loads'—and has far less to do with 'add-on' considerations like solar power.
Did you know: While rainwater tanks, solar hot water systems and other sustainable living measures do have a positive impact on how much energy your home consumes, at present, an energy report is much more focused on the heating and cooling requirements of each 'zone' within your home.
With that said, it is increasingly likely that broader sustainability considerations—solar power, rainwater tanks, and more—will factor in energy reports in the future.
For example, in New South Wales, a 'whole of house' approach is taken through the use of a mandated state government calculator called BASIX. Similar calculators exist in other states but are voluntary for the time being.
Calculating heating and cooling loads
An energy report calculates the volume of air inside each room throughout a house, and then the amount of heating or cooling required to condition each room to maintain a temperature of 18 degrees Celsius, 365 days per year (depending on the climate category of the area the house is built).
This calculation is referred to as 'the mechanical heating and cooling load'.
For example, Victoria is a mostly cold climate. As a result, heating your home is generally a priority throughout the year, rather than keeping cool. Windows are typically conductive, meaning the heat you generate can leak out through the glass and frame components of certain types of windows.
In this example, as more hot air leaks out of your home, the more you'll need to run a heater to stay comfortable. The more you run your heater, the higher your mechanical heating load, which can contribute to a lower energy rating overall. This is one reason why energy raters often recommend that you 'up-spec'—or make upgrades or enhancements to windows—like double-glazing.
How is an energy report conducted in a home?
Energy reports are typically completed using specialised software programs. All NatHERS reports must use one of four accredited software programs to ensure consistency in ratings.
About the process
Please note, this process relates to the experience of creating an energy report using First Rate 5. The process associated with other accredited software programs may differ slightly.
First up, the floorplan of the property is loaded into the software program and 'zoned'.
'Zoning' means that different rooms throughout the home are categorised differently based on how they're used in day-to-day living, and the way each room is typically designed or built.
Some examples of different zones include:
Unconditioned areas: this can include garages, bathrooms, laundries and rooms throughout the house that are assumed not to have any heating or cooling.
Living areas: which can include loungerooms, kitchens, or studies—typically rooms with TVs and other appliances—where the occupants will usually spend a high amount of time. These areas have significant heating and cooling loads because of the high amounts of time spent in these areas (and therefore a requirement to keep them temperate). Kitchens usually have particularly high loads because of the large levels of humidity generated through steam, heat, cooking, and multiple appliances.
Night-time zones: typically, any area of the home that is only accessible from a bedroom, such as a walk-in robe or en suite.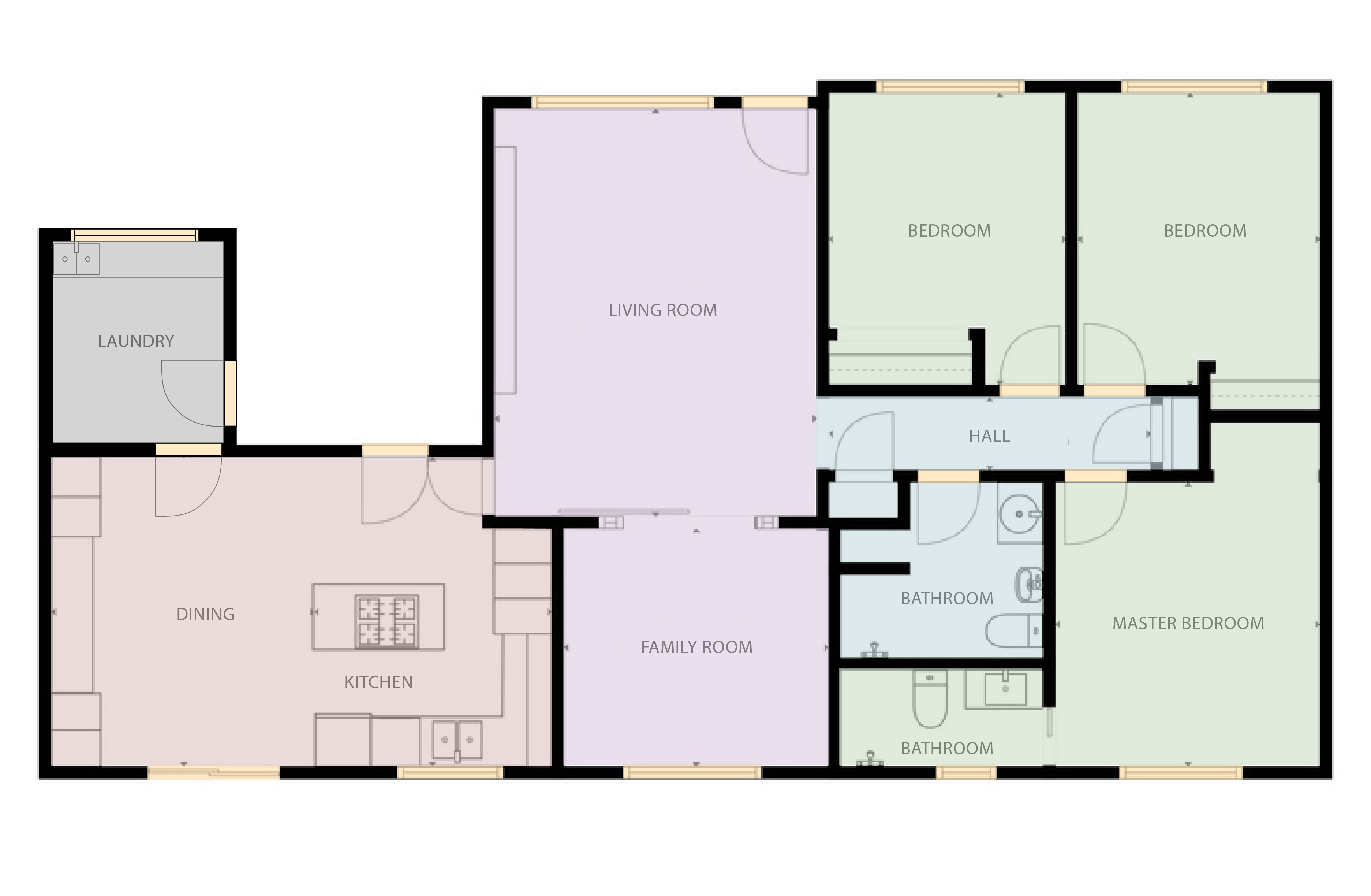 Using First Rate 5, different 'zones' are categorised using different colours on a home's floor plan.
(Please note, this image is indicative only and not sourced from any accredited software program.)
Once the rooms in the house are 'zoned', the floor-to-ceiling heights are calculated, and every door and window is entered onto the plan.
Each window listed on the plan includes information about the type and configuration of that specific window product, along with a range of data points such as U-values and SHGC values. This is because windows can play a crucial role in how well a room retains hot or cold air, and therefore, can play a significant role in the room's cooling or heating load, which contributes to your overall energy rating.
With the mechanical heating and cooling loads calculated, the energy rater generates a diagnostic report.
The report outlines unique findings calculated through the energy rating process, as well as standardised information about the house. The report typically includes information such as:
Mechanical heating and cooling loads per room, per annum
Insulation properties throughout the home
Floorspace-to-glazing ratios
Information outlining ventilation and leakage points
Square meterage of windows throughout the home
The direction each window faces, and more.
These data points are then used to determine an overall energy rating for your home. The diagnostic report can also inform the priority of different updates you can make to your home, in order to improve the overall energy rating.
For example, in Victoria—where we prioritise heating over cooling a home for most of the calendar year—a kitchen with a higher annual heating load would be a good room to optimise for improved energy efficiency, before worrying about a laundry or a garage.
Did you know: In Victoria and other 'cool climates', most of the windows (and the largest windows) should ideally face the north or north-west, where you can access and make the most of the day's sunlight. On the other hand, having less window frontage on the south and south-east facades of a home can be beneficial for energy efficiency. This is because of the solar heat gain, which is 'free heat' gained from the sun during the day that reduces the amount of mechanical heating required.
How can I find out more information?
Creating an energy report is a sophisticated and variable process. While the general method of creating a report and establishing an energy rating is the same from home-to-home, every location is unique. Factors like geography, the size of other buildings near your home, the materials you've built with, and more can all contribute to your overall rating.
The best way to find more information, or establish your home's energy rating, is to deal with an accredited professional, like Arrow Energy Ratings.
For more information about energy efficient windows and doors, double-glazing, or other products, get in contact with our team today.