Feature Project: Hallbury Homes
Our partnership with Hallbury Homes is about delivering consistent quality through flexibility and choice.
The team at Hallbury Homes has a strong dedication to delivering creativity through collaboration. Every home is defined by each owner's personal aesthetic, their unique fingerprint. It's why they've never built the same home twice.
To deliver on those visions, Hallbury Homes rely on variability: both in their thinking and their supplier capabilities. We spoke to Glen—Operations Manager from the Hallbury Homes team—to find out how it all plays out.
The one constant is quality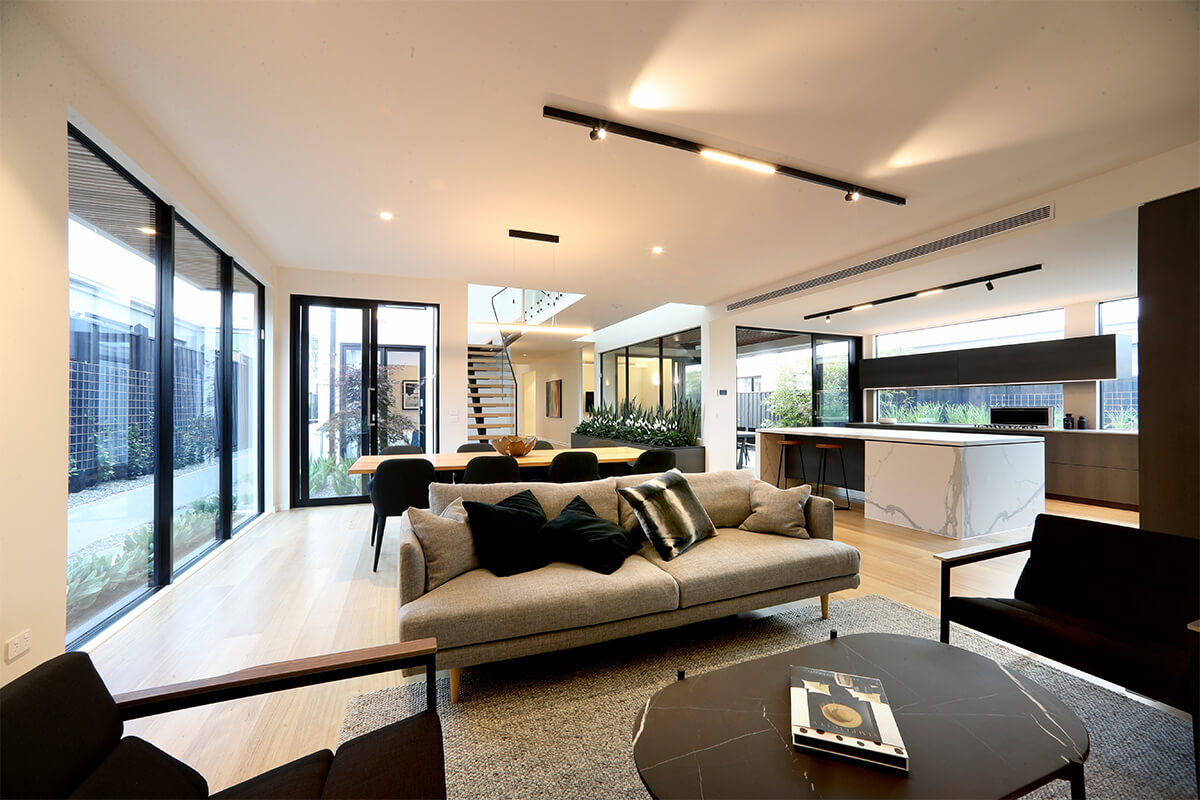 An open plan loungeroom and kitchen forms the sophisticated heart of the Evoke.
"We generally pride ourselves on being more thoughtful with design and choices by considering the detail. Challenging and testing the status quo."
"We often ask ourselves: how can we be more creative in our application of existing products that are available at market? That's particularly true of 16 Hyde Avenue."
The Evoke is testament to the overarching Hallbury Homes approach. It provides prospective homeowners with a wide range of design options and potential inclusions—including flexibility in their selection of A&L windows and doors—but with a consistent level of luxury and premium aesthetic in every room throughout the home.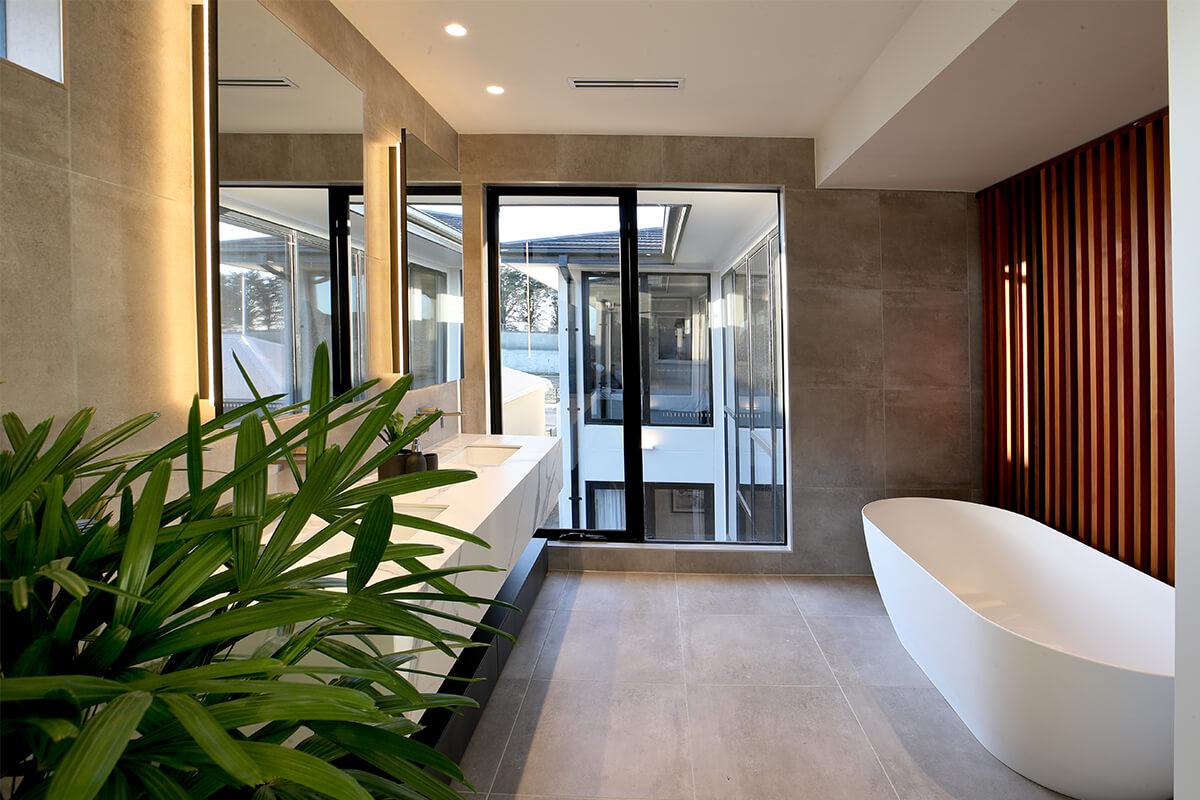 Seamless luxury: from bathrooms to bedrooms and everywhere in between.
"We spent a good 12 months developing and refining the plan for the home through multiple design iterations. As our flagship display, it's an important opportunity to put our best foot forward. This home is about capturing everything that we want to be and everything we want to offer to our clients."
"This home is about scaling our capability throughout the property to show a range of different design offerings."
"It's critical we show a sliding scale for homeowners. It can be tempting to show off contemporary designs with mostly premium inclusions, but we back our ability to achieve high quality regardless of the scale of budget we're working with. We provide choice and flexibility, but always with a consistency of quality."
A flexible range of fixtures and inclusions
"To showcase and reiterate that sense of choice, there's a deliberately varied offering throughout the home. Some rooms have standard awning windows, some rooms offer floor-to-ceiling double hung windows—they're all part of A&L windows' offering."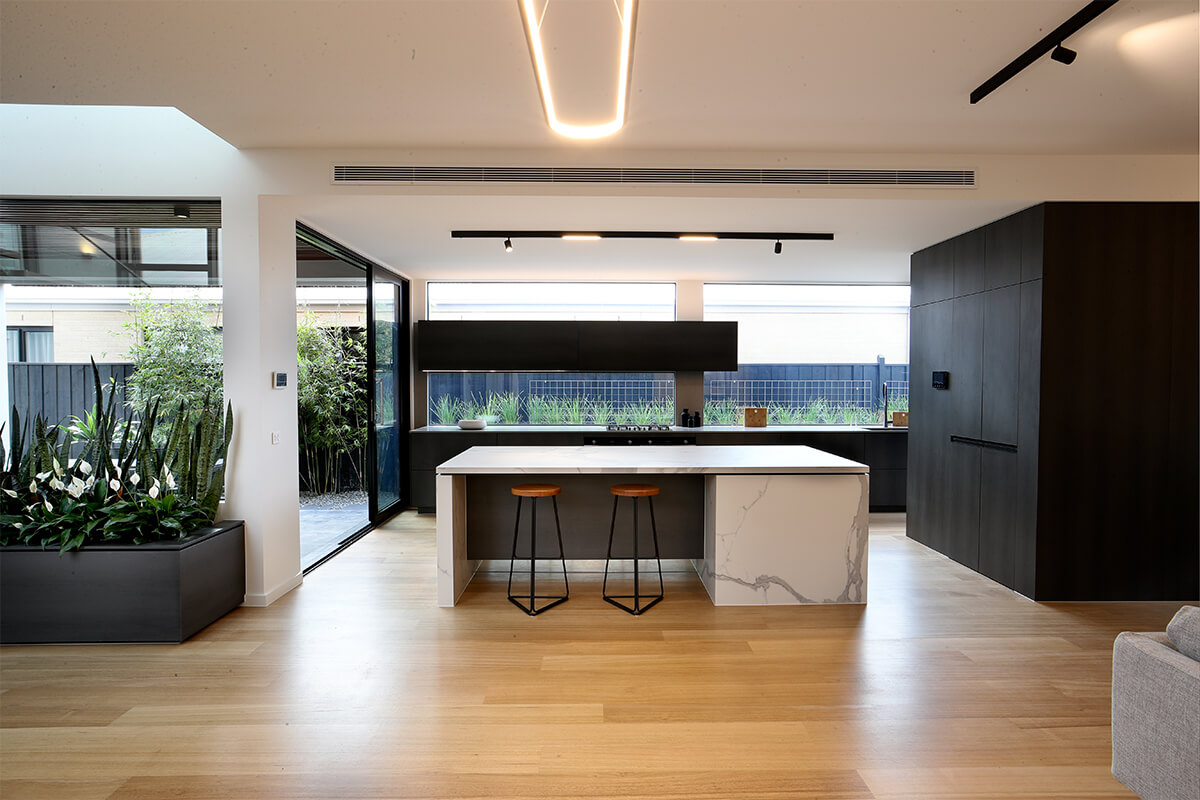 Glass and glazing play a critical role throughout the home.
"We've explored the full suite of A&L products, from cavity sliding doors—probably one of the more high-end products in the range—through to standard single glaze sliding windows. Then, using low-e glass through to tinted glass types."
"Glass and glazing are a huge part of our aesthetic. We effectively use glass as one of our main building cladding materials."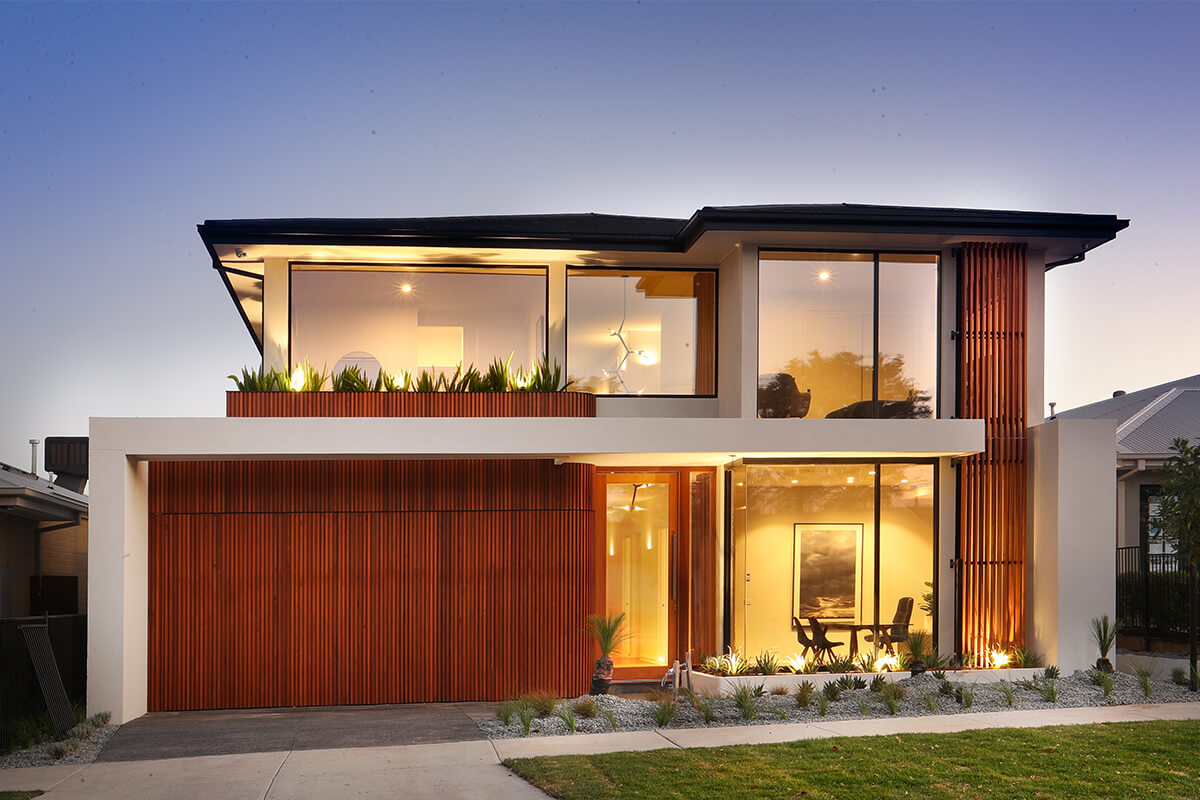 The forward-thinking front facade.
"In this project, we wanted to be strategic in showcasing flexibility. It's all well and good to have a house full of the Boutique range—which would look fantastic—but we want to a provide a range of compelling price points for prospective homebuyers."
"Whatever your budget, you can scale up and feature more of those hero pieces. You could choose all Boutique windows and doors, or you can scale back and achieve a similar design outcome within a certain budget."
"Flexibility is critical, because we don't want price to be a barrier to entry for our clients."
"For example, upstairs in the bedrooms, the windows are the centre piece, the focal point of the room. We feature really large Boutique fixed windows. Then, on the side wall just above the bed, we've gone back to just the standard awning windows. So, it's about showing the clients there's flexibility in their product options."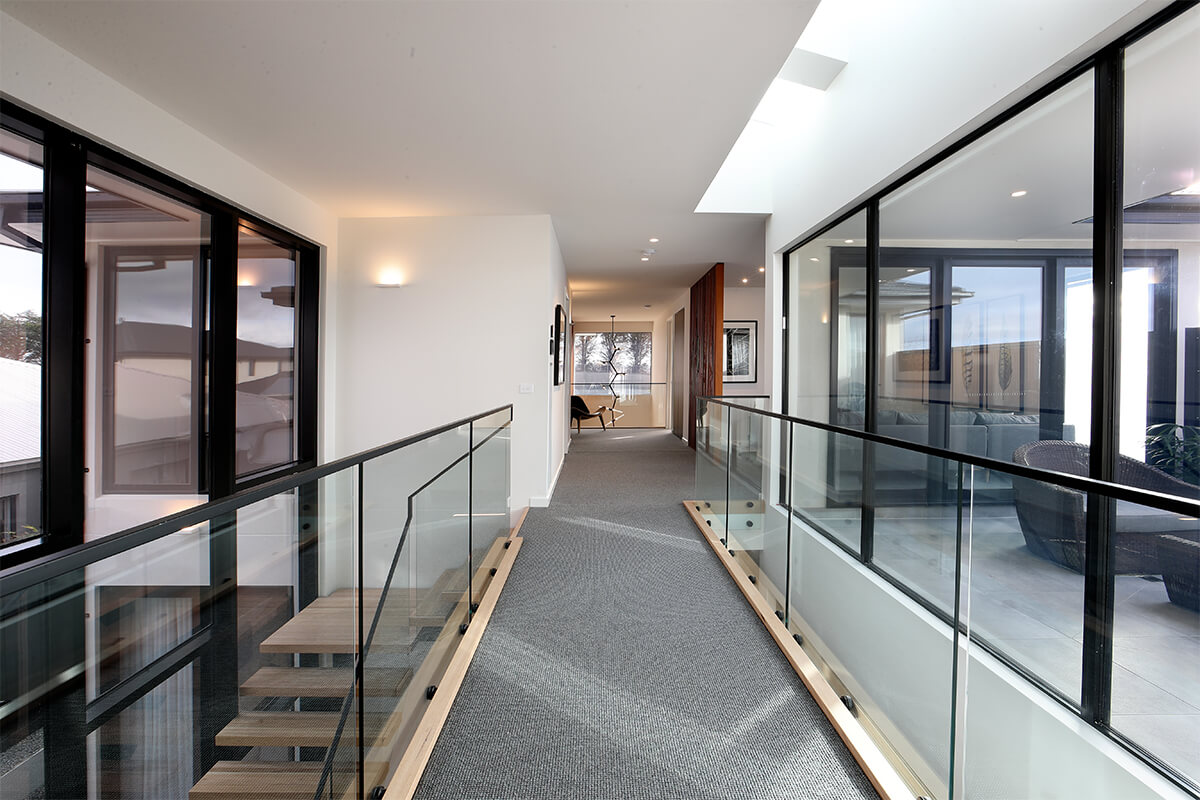 Natural light pours in through a range of products upstairs.
"We're proud to have achieved and delivered that consistency, while still having the home with all the hero pieces and it still looks amazing. For the sales team that's incredible, because you just take people through the home and point out—everything you see right here is what you can have—and it looks amazing."
A partnership built on dedication and honesty
"We stay with A&L because of the quality of their individuals."
"Dealing with a large supplier with a lot of moving parts, for a smaller and nimble builder like us, sometimes creates ongoing challenges. For example, whether it's due to challenging site access because we're on the side of a hill or whatever it is, there's always a consideration that disrupts the norm."
"Whatever the challenge, the individuals—the account manager we have at A&L—they try their hardest to accommodate that and to make things seamless for us."
"We have high expectations of ourselves and all our supply chain partners."
"We have frequent discussions about what we need, to ensure they understand those needs completely and appropriately, and what they can do to ensure those needs are met. It's valuable to have those authentic conversations. A&L definitely don't shy away from that."
"A&L, given the size of their business, could have quite easily deemed us too hard to deal with. But on the basis of the individuals they have within their business—people who are always willing to accept and rise to the challenges—and continuously look for the way that a solution can be found, as opposed to why it can't, that's why we continue our partnership."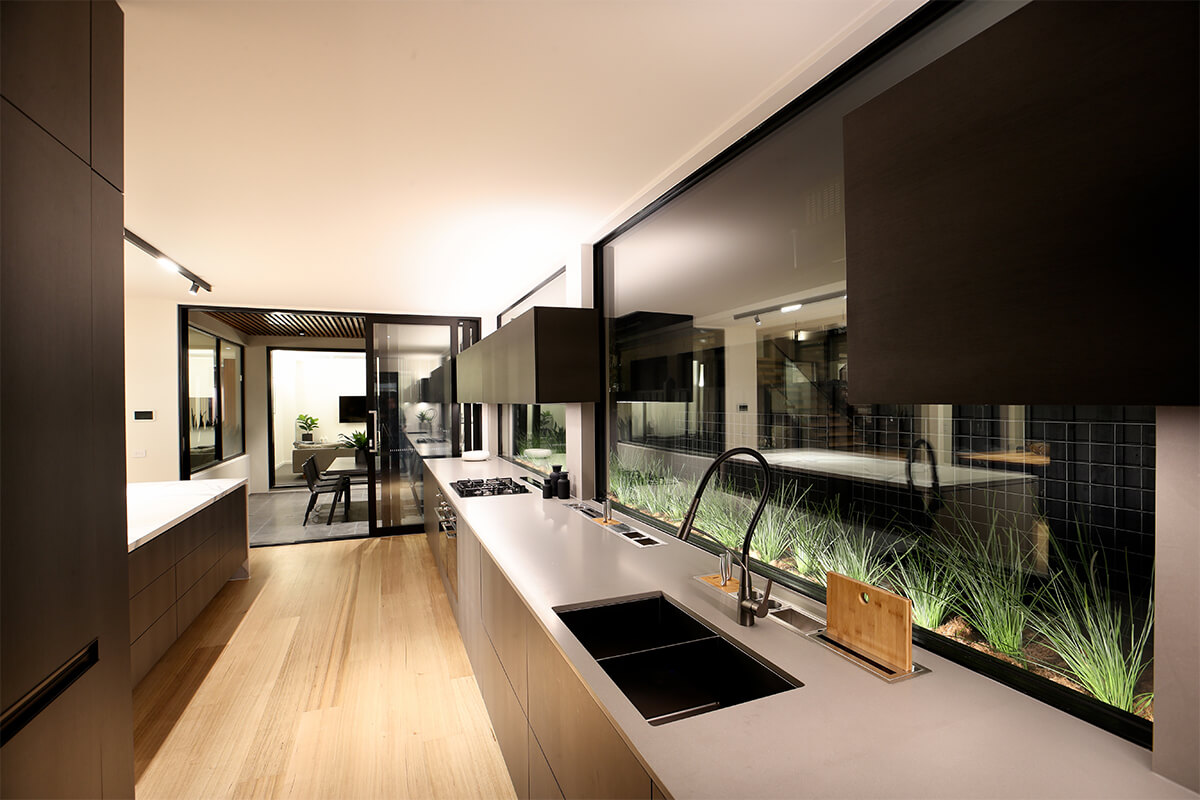 Clean lines and a minimalist aesthetic transition from the kitchen to an alfresco dining area.
"It's true all the way through from their credit team to quoting, to their service team, to after-install. It's across the board."
"A&L have the capability of a large organisation, but then they've got the dexterity to cater for businesses like us who have a very particular—a very specific—set of needs. Again, that's one of their real strengths: the individuals in A&L who continuously work to make that happen for us."
Wrapping up.
If you're interested to learn more about Hallbury Homes and their approach to building uniquely personalised modern Australian living environments, head over to their website now.
Otherwise, stay tuned for more of our feature projects or get in touch if you've got something exciting in the works yourself.