UNDERSTANDING ENERGY EFFICIENCY
Ways to reduce your double glazing spend when you're on a tight budget.
Double glazed windows can create significant benefits in your home: from improved comfort in winter and summer, to helping you save on your energy bills. But while double glazed windows can offer incredible long-term value and performance, they're not always factored for in a home-building budget.
Whether you're designing your dream family home or working for a volume builder developing a new display model, cost is almost always a key consideration when a home is built.
While double glazed windows can deliver huge value and significant gains in energy efficiency, they can also be expensive. And when you're on a tight budget, sometimes an unforeseen cost can be very much unwelcomed.
Luckily, we're here to help.
We've partnered with the team at Arrow Energy Ratings to bring you some insights into how you can approach double glazing and energy efficiency, all while operating in the constraints of a budget.
In some cases—depending on the layout of your home, the materials you've built with, and your specific priorities for energy efficiency—you may be able to achieve some incremental gains without spending thousands of dollars to double glaze every window in the home.
Before we get into the details, it's important to note that every single home is different. Each house has multiple unique variables that contribute to energy efficiency and your overall energy rating.
While this is a handy guide, we recommend you contact a professional accredited energy rater before making any decisions or implementing any of the following approaches.
1.    Insulate the internal walls of any 'unconditioned zones' within your home
To achieve this, you'll need to understand the concept of 'zones' and the way different household rooms are categorised in an energy report.
Basically, an 'unconditioned zone'—like a garage, bathroom, or laundry—is a room without any mechanical heating or cooling load. On the other hand, 'living areas' or 'day zones'—like lounge rooms or kitchens—have significant heating and cooling loads, because of the high amount of time families spend in these areas (and therefore the high levels of heating and/or cooling required to keep them comfortable throughout the year).
Did you know: The 'mechanical heating or cooling load' refers to the volume of air inside each room throughout a house, and then the amount of heating or cooling required to condition each room to maintain a temperature of 18 degrees Celsius, 365 days per year (depending on the climate of where the house is located in Australia).
By insulating the internal walls of 'unconditioned zones', you may be able to minimise the potential for hot or cold air to leak out of your 'day zones' or living areas.
With less conditioned air leaking out of your day zones, you'll likely use less energy to heat or cool those same day zones to keep the rooms comfortable. The decrease in energy usage can potentially contribute to an improved energy rating overall.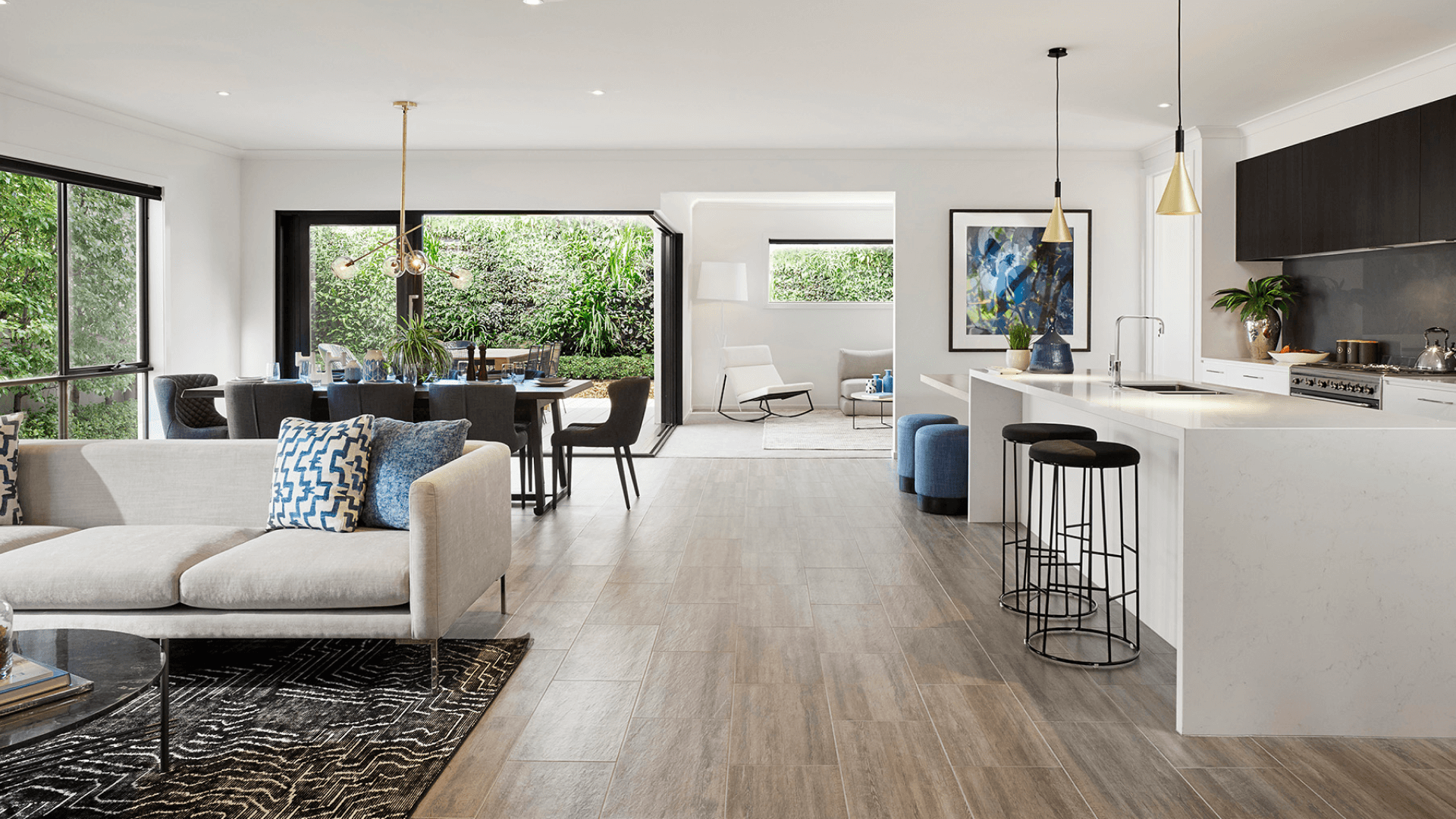 Lounge rooms and kitchens typically have a higher mechanical cooling load because of the high amounts of time people spend in these areas, compared to other rooms in the home.
2.    Use low emissivity glass in certain windows throughout your home
Low emissivity glass (also referred to as 'low e' glass) can help to prevent the sun's heat from escaping a room as well as optimise solar heat gain into the room.
In some situations, depending on the orientation and size of your windows, you can achieve small improvements to your energy rating by using single glazed windows with low emissivity glass, rather than upgrading to the dual-pane configuration of a double-glazed window.
With that said—wherever budgets permit—double glazing is definitely preferable for significant improvements in energy performance.
3.    Take a strategic and data-led approach to double-glazing certain windows throughout the home
Although the techniques listed above can deliver some improvements to energy efficiency, double glazed windows will still likely create the most significant benefits throughout the home.
However, before you commit to double-glaze every window, it's worth identifying your priority zones and double-glazing those areas first. Typically, these will include:
Kitchens
Loungerooms
Dining rooms, and
Other rooms where you'll likely spend a lot of time.
These areas of the home usually require the highest 'mechanical heating and cooling loads', which are a key factor in determining the overall energy rating of any house or apartment.
Depending on the orientation of your home and other factors, there have been instances where double glazing one or two windows delivers an incremental gain in energy efficiency, which can trigger a revised rating for the home overall.
So how do you determine which rooms to prioritise?
The diagnostic information generated in an energy report  can provide you with clear, specific guidance in relation to the mechanical heating and cooling loads of each room. With that information, you can strategically prioritise your spend on double glazed window units based on where you'll get the best value for money: likely the rooms with the highest heating and cooling loads.
Did you know: As a general rule of thumb, windows in bathrooms, toilets, or laundries can often be considered lower priorities for double glazing because they're typically considered 'unconditioned zones'. That means, the air inside those areas of your home may not contribute to the overall calculation of an energy rating.
Wrapping up
As always, the best way to ensure you take the right approach for your circumstances is to speak with a professional.
Whether you're looking to understand more about energy efficiency, learn about double glazing, or discover the best window and door products for your unique project, we're here to help.
Connect with our experienced team today to find out more.
Or, get in touch with Arrow Energy for more insights into how you can approach energy efficiency in the home.