Compliance Explained
What Do NCC Changes Mean to You – Stage 2
Your guide to the Stage 2  NCC amendments that affect windows and doors.
No matter your involvement in the building industry the NCC 2022 changes are worth understanding. If you need a memory-jog for the Stage 1 changes, check out our previous article.
The greatest focus of the Stage 2 release is energy efficiency, with increases to the Star Rating required for the building fabric itself. In addition, a new Whole of Home Rating will be required, relating to overall energy usage – factoring in things like appliances, solar, heating, cooling, and more (similar to BASIX in place in NSW).
NatHERS Compliance Requirements
New homes will need to meet both a higher Star Rating for the building itself and a Whole of Home Rating for annual energy usage to receive a NatHERS certificate. However, pushing for the highest possible Star Rating for the building itself in the first instance will make it easier to achieve the Whole of Home energy usage requirements.
Star Rating
The minimum Star Rating for the building fabric is changing from 6 to 7 Stars. A home is deemed compliant when the 7 Star band limit is not exceeded by either the heating or the cooling loads. These heating and cooling loads depend on the location of the home. The cooler the climate, the more a homeowner will need to artificially heat their house, and in warmer climates, more artificial cooling will be required.
Achieving a 7 Star Rating will require increased performance across a range of building elements. Less than 10% of homes currently built in cooler climates like Victoria and New South Wales achieve 7 Stars, so this will be a major change for most home builders.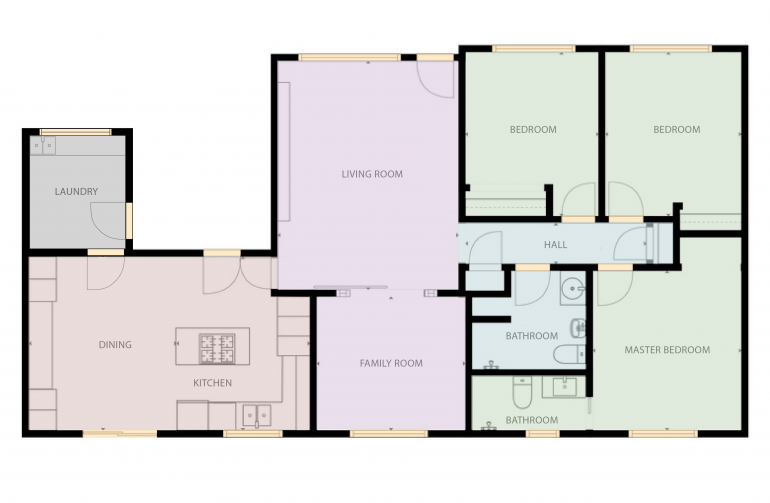 Influencing factors:
Home design (e.g. orientation, size, scale of various elements)
Roof colour
Ground floor slab type
Floor coverings
Exposed concrete – garage
Ceilings and insulation
External wall type and insulation (including windows)
Internal walls and insulation (including air gap)
External doors
Internal doors (room separation)
Garage door
Gap between ground level ceiling and second storey flooring
Climate zone
Whole of Home Rating
The new Whole of Home Rating measures the total energy consumed by appliances and other home accessories. This includes things like cooking and plug-in appliances, hot water systems and pool and spa pumps (see list below).
In order to comply with the Whole of Home requirement, the home must meet the maximum energy requirements (Total Energy Use), depending on where the home is located. An Annual Energy Use Budget needs to be determined based on the various influencing factors.

Influencing factors:
Household appliances
Air conditioning – heating and cooling
Hot water systems
Lighting
Cooking and plug-in appliances
Pool and spa pumps
Solar panels and battery storage

Windows
As energy requirements increase, higher window performance may be required in some orientations. In cooler climates like Victoria or NSW, to achieve the 7 Star Rating requirement double glazing within main living areas may be sufficient. However, some homes may require full double glazing throughout as all the factors listed above come into play.
Window frame colour will also play a minor role in the energy equation. The NatHERS calculation will classify window frame colours under light, medium and dark categories. The solar absorptance is lower when the colour is lighter.
Lighter frames reflect heat and therefore are far more favourable in a hot climate. Whereas darker colours absorb heat, making them a better choice in cooler climates where bringing in warmth is the higher priority.
For further information and a more detailed overview of what's new in the NCC 2022, head to abcb.gov.au.
*This article has been developed to provide general guidance, awareness and education. It should not be viewed as a definitive guide and should be read in conjunction with the requirements of the National Construction Code (www.abcb.gov.au). While every effort has been made to ensure the information is accurate, A&L expressly disclaims all and any liability to any person for anything done in reliance on this publication. No responsibility is accepted by A&L for any mistakes, errors, or omissions in this content.