40 years of A&L stories
"We always look to improve, that's the hallmark of this team"
Welcome to the first instalment of our 40-year anniversary series. Throughout the year, we'll hear from some of the people who've helped bring A&L to life, with stories from staff, suppliers and clients.
It takes huge amounts of teamwork and dedication to maintain a business over 40 years. When we think about those concepts—teamwork, dedication, commitment, service—we're proud that hundreds of names come to mind throughout our business.
A&L is built on teamwork. After all, teamwork is the thread that ties our operations together; it's the crucial ingredient for quality and consistency across an intricate supply chain.
To understand the team—and gain insight into the qualities and attitudes that bring it to life—we spoke to some experienced members who've celebrated a few A&L milestones of their own.
Dale Phillips, who brings over 25 years of Information and Communications Technology experience from across every aspect of A&L's operations. Adam Winterbon—National Product Manager—who has spent the past 11 years rising through our Estimating, Accounts, and Customer Service teams. And Adam Brown, our Operations Manager in Victoria, who draws on over a decade's experience across A&L's Service, Manufacturing, Transport and Operations teams.
We sat down to discuss the definition of 'service', the value of pushing the envelope every single day, and a first impression that's lasted for over a decade.
What does 'good service' mean at A&L?
A.B: "I still remember one of the first things our General Manager said to me when we first met ten years ago: 'A&L is known for our service levels. That's all service levels, not just technicians out on the road. It encompasses people answering the phones in the office, it's our internal customers, everything'."
A.W: "Service starts at the very beginning of an interaction: from the minute somebody sends through an email or picks up the phone for an enquiry, right through until the very end where customers have moved into a new home—everything's going well—and they get their check from the builder six months down the track."
"Within an end-to-end experience, service is obviously giving customers what they want—what they expect—but also going above and beyond to anticipate their needs ahead of time."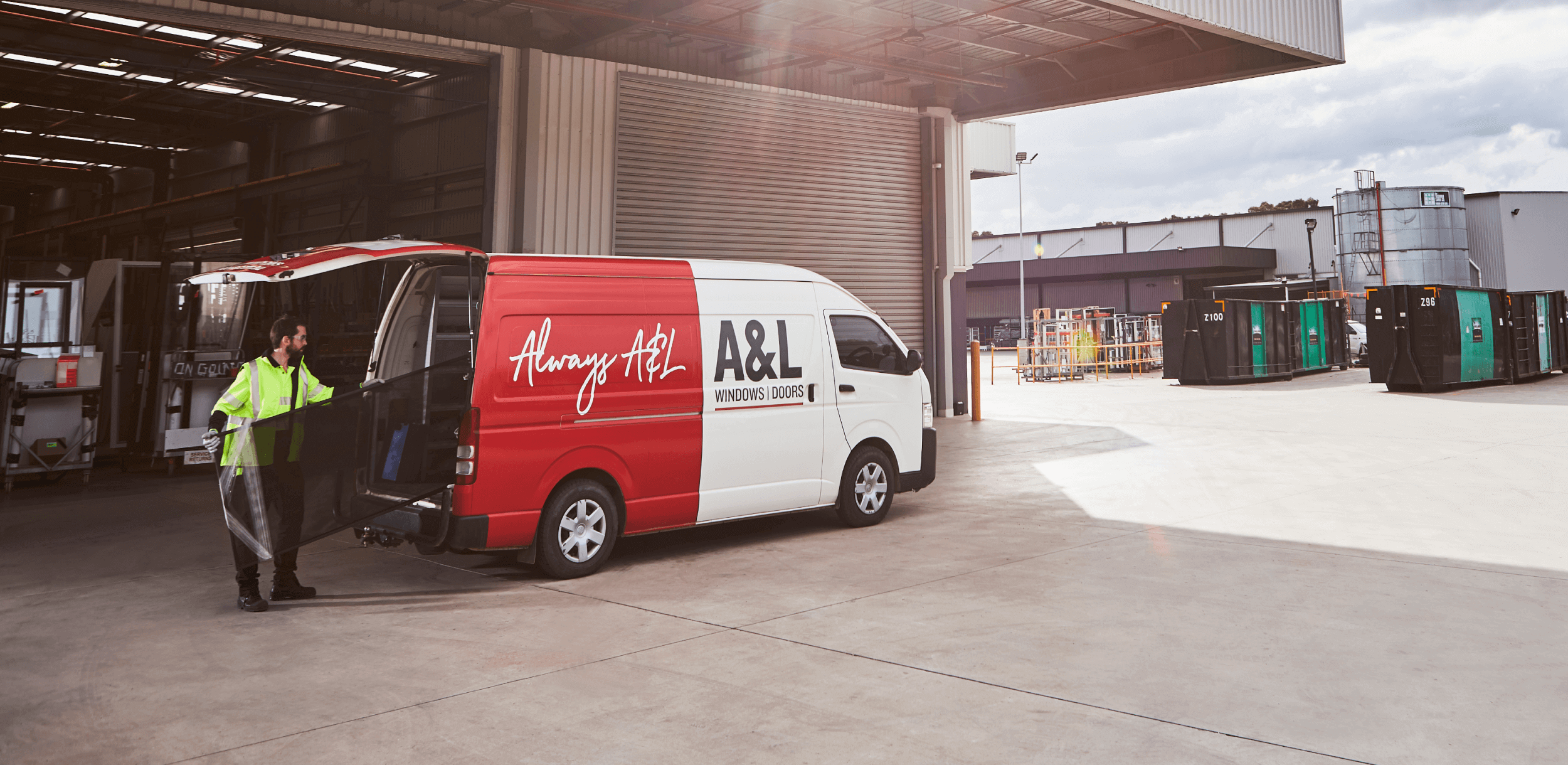 A.B: "One of the things we try to uphold is always pushing to exceed. It doesn't matter if a customer tells you they want 90% DIFOT, we'll strive for 95%. If they require a lead time of 12 days, we'll shoot for 10. It's always about anticipating and exceeding their expectation."
A.W: "We know in the building industry that every minute waiting for a product costs money and potentially compromises other trades in the build process. One day spent waiting on a window product could mean you have to wait another three days for plasterers, or that the floors can't go in for another week. Minimising time spent waiting on products is a key element of service, and we have carefully engineered measures in place to mitigate those occurrences."
"But there's an element of partnership and guidance involved too. For example, if we see something on a set of plans and we know a certain approach isn't the best option in a house, we'll make suggestions and encourage an approach that's better for everyone. That could mean facilitating less maintenance, a better aesthetic in the home, or different pricing options."
"Service can happen at any point and it takes different forms, but ultimately I think it's about going above and beyond to solve problems and create better experiences."
D.P: "For me, it's purely this: if we say we're going to deliver something, we meet the commitment through our knowledge and skill set. We manufacture the products and we deliver them. On time. In full. And if we don't, we haven't met our commitment to good service."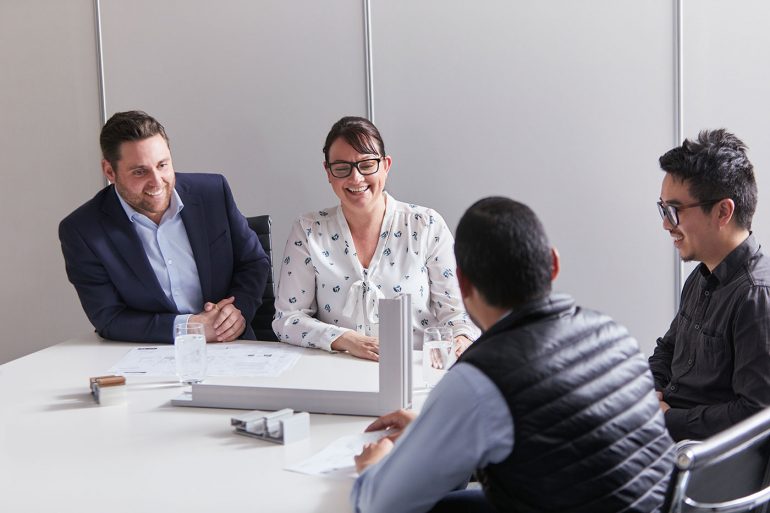 There are clients and customers who have relationships with A&L that have lasted over 10, 15, even 20 years. What makes A&L a good partner?
A.W.: "The most important thing is that word; 'partner', not client or customer. I think our team genuinely see our collaborators as partners."
"We know that builders want to deliver good products and high-quality homes. If we work hard and work together, that experience is going to be much smoother and the end result will be better."
"Part of honouring a partnership is having the dedication and desire for constant improvement."
"We're always looking to continually improve, which is a hallmark of how the team operates here. We always track our errors and anything we don't do well to identify opportunities to improve."
D.P: "There's always been a focus at A&L that whenever we have a customer, we take the approach of striving to nurture that relationship. We work with various builders and their needs change over time: with facades or the aesthetic of their homes. In my experience—over a long time—A&L has been very good at developing and maintaining the product mix and range that meets those needs, by always being willing to listen to what builders are trying to do."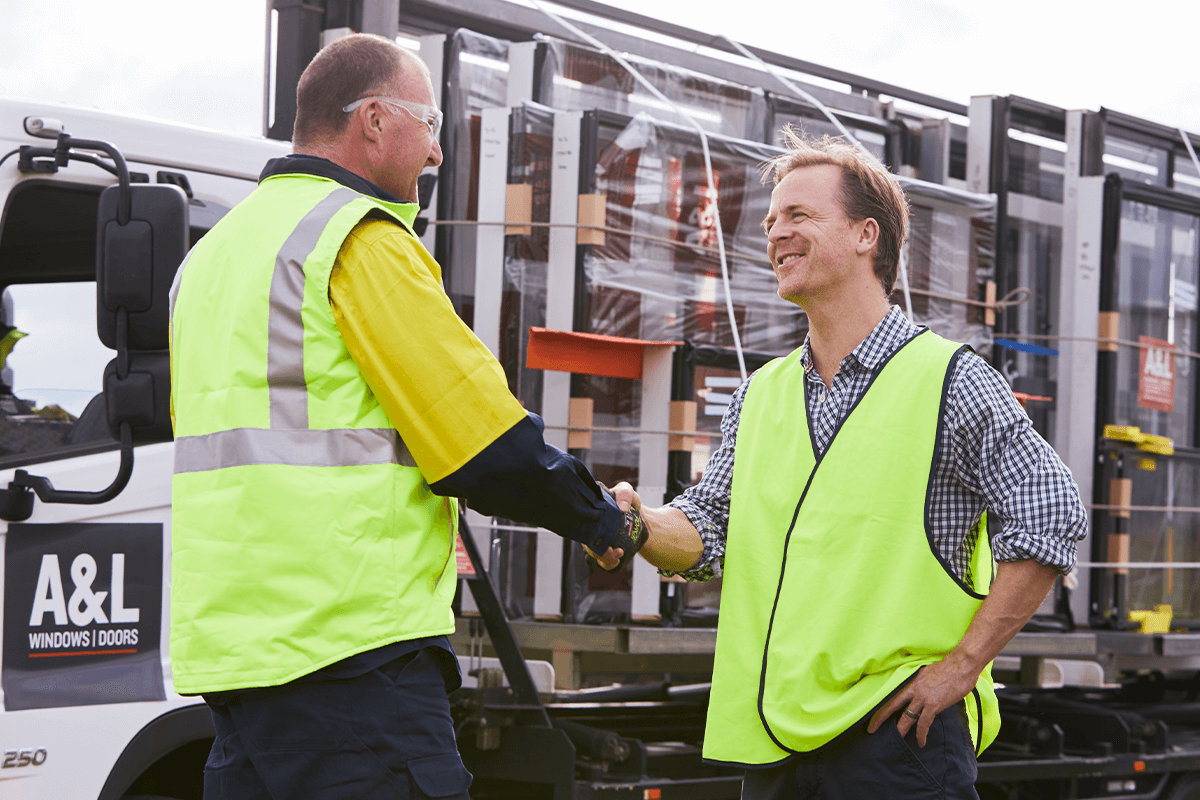 What are your favourite experiences from your time with A&L?
A.W: "I've got one builder who I've had a close professional connection with for a long time, and he only builds one house every few years. He takes a lot of pride in his work; he only builds spec homes. Basically, he only builds houses that he personally loves, from top to bottom."
"Every time he does, he'll ring me personally and say: 'We've got a new house in the works, you need to tell me what new windows you've got, I'll show you the plan, and we'll go from there'. Every couple of years he'll build the house around the windows, effectively. And he builds to an immaculate standard. Each of his last three builds have been awarded Queensland's Home of the Year."
"Being able to partner with an award-winning builder who takes pride in his work, and who thinks we're the right partner for him, it's a hugely fulfilling experience."
D.P: "Certainly in recent times, a highlight for me was the implementation of SAP in Queensland. That was a huge success, both from the business' point of view, but also from a personal point of view as well."
A.B: "The turnaround we went through after implementing SAP, it was a pivotal point. Especially for the service side of the business, because we were admittedly in a difficult situation. That experience left me infinitely more confident in things, with the level of resilience and dedication that was shown. Seeing the positive turnaround from the team just provided so much confidence in our people and our culture."
What makes A&L unique?
A.B: "It might sound like a cliché, but it's the people, because they're ultimately responsible for making A&L. Without the group we've got, you're not going to be able to deliver the quality or consistency that have become cornerstones of the business. Because, you can have people who just turn up to do their work, but it's always more powerful and impactful when people actually care, which our team do."
"Everywhere throughout the organisation, we've got fantastic people who are deeply invested in each other's success, the success of our partners, and the success of this business."